Science Fiction, Fantasy & Horror Editors
You've carefully constructed your alien planet, lovingly invented alien beings, and painstakingly developed the alien society in which they live.
Or perhaps you've extrapolated from current human technology and developed a vision of North America in A.D. 3050. Is the gravity appropriate for the size of your planet? Does your travel time match your speed and distance?
You've worked hard to create a cohesive future Earth, alternate history, or extraterrestrial civilization, but the last thing you want to do is turn your manuscript over to an editor who doesn't know the difference between a light year and a light beer.
As a science fiction writer you need to ensure that the editor to whom you're entrusting your work shares your mindset. You need an editor who understands that Sol III is Earth while Sal III Jr. may be the natural son of Sal's third clone. You need an editor who recognizes the difference between typos and alien vocabulary.
Amelia Beamer
Science Fiction, Fantasy, and Horror
Developmental Editing, Manuscript Critiques, Work-in-Progress Beta Reading, Query Letters and Book Proposals
Former Locus magazine editor, Amelia Beamer is a critically acclaimed and agented novelist with knowledge of both the craft and the business of science fiction, fantasy, and horror publishing. She has seen a number of writing careers start while working at the Clarion East Science Fiction and Fantasy Writing Workshop, and she is a graduate of the Clarion Workshop with many years of critique experience. As an editor for Shueisha English Edition), she edited and helped package novels and collections over multiple genres, including young adult, thrillers, literary fiction, and erotica, and she is sensitive to the needs of translated texts and authors whose first language is not English.
Amelia's fiction has been reviewed favorably in publications including The San Francisco Chronicle and The Washington Post, and her writing has been translated into several languages. Barnes and Noble called her debut novel one of their favorite genre novels of the past decade.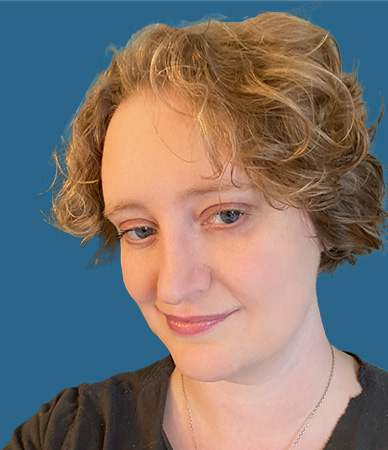 Lauren Humphries-Brooks
Literary Fiction, Young Adult, Science Fiction, Fantasy, Horror, Romance LGBTQ+, Crime, Detective, Academic Nonfiction, Film Scripts, Media Books
Lauren Humphries-Brooks has copy edited hundreds of novels, short stories, and nonfiction titles, including books by bestselling authors Jane Yolen, May McGoldrick, Paul Cornell, and Alyssa Palombo. She regularly works with large and small publishers, including St. Martin's Press, Tor/Forge, Prometheus Books, Bella Books, Entangled Publishing, and Cobblestone Press.
She loves working with both first-time authors and established writers, from people looking for that final check to those who want involved editing and collaboration. She's a writer herself, with a Master's in Creative Writing from the University of Edinburgh, where she learned the art of constructive criticism, pacing, plot structure, and dialogue.
Theodora Bryant
Science Fiction, Fantasy, Horror, Romance
Theodora Bryant has been editing professionally since 1994, ten of those with her fiction-only, award-winning publishing company.
She has been a member of the Book Editing Associates network since 2001. During that time her authors have garnered "Book of the Year" in science fiction, and "Finalist" and "Winner" awards in romance and mystery works. Her authors often receive outstanding reviews from Kirkus and Publisher's Weekly.
She's reviewed, evaluated, and edited thousands of manuscripts through the years and helps her authors navigate towards the "Top 100 Paid on Kindle" lists.
Karin Cather
Apocalyptic Fiction, Autobiography, Memoir, Police Procedural, Narrative Nonfiction, Fantasy, Science Fiction, Thrillers, True Crime
Developmental editor, copy editor, and writer with a background in criminal law and martial arts
If your novel has fight scenes or involves police procedures or the law, Karin Cather is your specialist. She has accompanied police on search warrants, observed autopsies, and been to countless crime scenes. She has training in arson prosecution, search and seizure law, and the insanity defense. She can help add realism to your writing.
In creative nonfiction, as someone who spent over a dozen years as a prosecutor, Karin know how many stories law enforcement officers, other first responders, and prosecutors have to tell. Karin edits autobiography and memoir of these professionals—current or retired—who write under their own names or use pseudonyms.
Karin brings her rich and varied background to bear on crime thrillers, police procedurals, and true crime, as well as dystopian and apocalyptic fiction, science fiction, speculative fiction, and fantasy.
Ann Howard Creel
Writer and Editor of Adult, Young Adult, and Middle Grade Fiction, Memoirs, and Historical Fiction
Congratulations on taking a step closer to achieving your writing goals. Even in today's publishing climate, I believe it is still possible for new writers to enter the business and succeed. With little background, I was able to get twelve novels published including children's middle grade fiction, young adult novels, and adult literature. I've worked with both small independent publishers, such as Roberts Rinehart and Brown Barn Books, and large publishing houses, such as Penguin Putnam and American Girl, and I've collaborated on a screenplay that took one of my novels to film for Hallmark Hall of Fame on CBS.
In addition, I've been editing professionally since 2007 and have helped numerous authors achieve their publishing goals. Writing is a creative endeavor done best when inspiration strikes, and I believe every writer has his or her unique story/stories and voice with which to tell it. That said, certain guidelines, skills, and techniques will make stories shine, and writers will always benefit from the help and support of experienced writers/editors.
I specialize in developmental editing of mainstream fiction, women's fiction, historical fiction, science fiction, narrative non-fiction, and memoir and would love to hear about your project and goals.
Susan Maia Grossman
Science Fiction, Fantasy, Horror, Magical Realism, Young Adult and Middle Reader, Books in Verse, Literary and Women's Fiction, LGBTQIA topics, Short Stories, Nonfiction, Essays, Memoirs, Judaica, Comparative Religion and Modern Spiritualities, Folklore and Mythology, Science and Technology, Business
Publishing veteran and book doctor Susan Maia Grossman has been in the industry for more than 25 years. She worked in-house for major New York publishers Ace Books and Macmillan, read and edited manuscripts for Tor, Baen, and Random House Spectra (among others), and provides highly personalized guidance as an independent editor. Her recent writers have been recognized with honors that include the Lambda Literary Award nomination, the Moonbeam Children's Book Award, and Eric Hoffer Book Awards/Montaigne Medals Book Awards in nonfiction.
She works across the gamut of editorial services, providing critiques, mentorship, developmental editing, line editing, and copy editing, as well as helping with synopses, query letters, and cover copy. A graduate of the Clarion West Writers Workshop in science fiction and fantasy as well as a published author, she thinks of editing as a partnership and has a particular love for developing writers' first manuscripts.
John David Kudrick
Fiction (Multiple Genres)—Editor of 240+ Published Titles
You're sitting at your computer, smiling, feeling an incredible sense of satisfaction in your heart. After more hours than you can count, you've finally finished your book – a work from deep within your soul that you want to share with the world.
But then the questions start hitting your mind: Is it the very best that it can be? Will anyone even want to read it? What's my next step? As an editor and a writer himself, John David understands the gamut of feelings that comes with getting your manuscript from your hard drive and into print. That's why he'd love to partner with you in getting your book manuscript to the next level.
With an MA focused on fiction and over two decades of editorial/writing experience, John David has had the opportunity to serve as an editor on more than 240 published fiction/nonfiction titles and to work with authors from across the US and around the world.
Floyd Largent
Science Fiction, Fantasy, Short Stories, Anthropology
Manuscript evaluations, developmental editing
Floyd Largent edits nonfiction, novels, and short stories. His first love as a fiction editor is science fiction and fantasy for young adults and adults, especially for works in which science, characterization, mystery, and unusual cultures play an important part.
In nonfiction he specializes in anthropology, history, science, spirituality (including religious and New Age), and memoirs.
Kelly Lynne Schaub
Paranormal Romance, Westerns, Young Adult, Science Fiction and Fantasy, Psychic, Supernatural Phenomena
Kelly Lynne Schaub is the proud "auntie" to over 150 traditionally published novels, novellas and short stories. As an editor for The Wild Rose Press, she edited contemporary western and light paranormal romances, with heat ratings from sweet to spicy.
Kelly has published over 100 non-fiction articles, four short stories, and two novels. She helps authors polish their submission packets for literary agents and publishers, and also helps writers prepare their manuscripts for self-publishing.
Steven Severn
Award-Winning Ghostwriter, Editor and Writing Coach for Eleven #1 Best-Sellers
Award-winning New York Times best-selling ghostwriter, book doctor, editor, screenwriter, and writing coach. Mentored by an Academy Award-winning writer. Ghostwriter and consultant for eleven #1 best-selling books, including five New York Times #1 Children's books. I'm here to make your deepest dreams come true.
I mentored under Oscar-winning screenwriter Stewart Stern ("Rebel Without A Cause"​). I served as consultant for the #1 best-sellers TEARS FOR MY CITY by Dean Dimitrieski and THE REVVED LIFE by Pastor Jeff Knight, and for Robert Beatty's #1 best-selling Children's novels SERAFINA AND THE BLACK CLOAK, SERAFINA AND THE TWISTED STAFF, and WILLA OF THE WOOD. In addition, my ghostwritten screenplay based upon a #1 best-seller was winner of Best Adaptation at two international script competitions.
Dreams are powerful. Dreams can transform you. Dreams come from a Higher Power, and can take you to your highest place. If you have a dream, or a vision, your heart yearns to see it come true. My calling is to help you write the words that can make your deepest dreams come true. I love taking all that passion and fire burning inside you and transforming your life stories, your dreams, your visions, and the deepest yearnings of your heart from the first spark of imagination into fire-breathing reality.
I'd love to help deliver your creative visions to the world, using the fire and passion of imagination, and the life-transforming power of your dreams.
Thank you for sharing your dreams with me.
Kelly Sweet
Science Fiction, Fantasy, Horror
Self-publishing consultant for independent authors
Kelly Sweet has provided copyediting services for independent authors of science fiction, fantasy, and horror, from short stories to epic, multivolume sagas. She gives her authors the best of both worlds: a keen eye for editorial details and affordable rates.
An independent author herself, Kelly has experienced the author-editor relationship from both sides and knows how important your voice and style are to your manuscript. You can rely on her to make corrections and suggest improvements while keeping your voice intact.