Ann Aubrey
Ghostwriter, Book Indexer, Copy Editor, Proofreader
Ann Aubrey has 30+ years of experience as a writer and editor, including fiction, nonfiction, medical, academic, technical, and college-level textbooks.
She began a career as a technical writer: geophysics, geology, and information technology. Then transitioned into journalism, working as Associate Editor/Editor of the Catholic newspaper of San Diego and teaching fiction writing at the university level.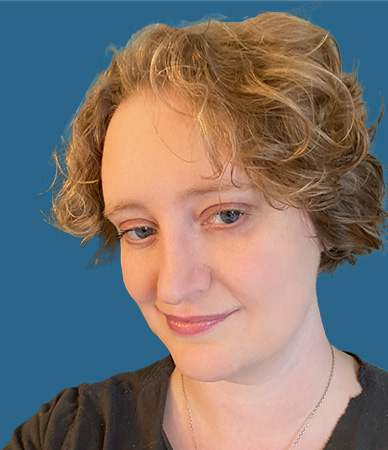 Lauren Humphries-Brooks
Literary Fiction, Young Adult, Science Fiction, Fantasy, Horror, Romance LGBTQ+, Crime, Detective, Academic Nonfiction, Film Scripts, Media Books
Lauren Humphries-Brooks has copy edited hundreds of novels, short stories, and nonfiction titles, including books by bestselling authors Jane Yolen, May McGoldrick, Paul Cornell, and Alyssa Palombo. She regularly works with large and small publishers, including St. Martin's Press, Tor/Forge, Prometheus Books, Bella Books, Entangled Publishing, and Cobblestone Press.
She loves working with both first-time authors and established writers, from people looking for that final check to those who want involved editing and collaboration. She's a writer herself, with a Master's in Creative Writing from the University of Edinburgh, where she learned the art of constructive criticism, pacing, plot structure, and dialogue.
David Ferris
Novels, Self-Help, Memoir, Christian, Spiritual, Business
David Ferris has worked on 100+ manuscripts that have landed publishing deals.
His long track record as a ghostwriter, writer, editor, and filmmaker has given him exposure to a wide range of authors, writing styles, and genres, including novels, nonfiction works, self-help books, memoir, Christian and other spiritual writing, and business books.
With professional experience in both fiction and documentary film, as a producer, writer, and director, David is well versed in the art of cinematic storytelling and can edit or critique your screenplay.
Henry Denard
Major Commercial Fiction, Nonfiction, and Screenwriting
Publishing a book at a traditional (Big 5) publisher is pass/fail . . . where pass is a 97%.
I excel at taking material from a "B-" and putting it over the top, to an "A+." Your material may, or may not, sell, but I'll turn it into the best manuscript it can be.
Apart from editing adult trade, young adult, and middle grade fiction and nonfiction, I'm also a screenwriter (WGA) and film producer for the studios.
My recently edited books include Girl From Nowhere by Tiffany Rosenhan (Bloomsbury, 2020) and Sixty Stories About Thirty Seconds by Bruce Van Dusen (Post Hill/Simon & Schuster, 2020). Both are debut authors.
My past bestselling authors include Anthony Bourdain (my name is at the top of the acknowledgments of Kitchen Confidential), Chris Wallace (Character), Richard Marcinko (Rogue Warrior), Steven Pressfield (The War of Art), Matthew Modine (Full Metal Jacket Diaries), and Brett Favre (Favre).
My titles have been featured on: Sixty Minutes, The Today Show, Oprah's Super Soul Sunday, and the front page of The New York Times. Two books I bought, edited, and published sold to studios (Warner and Universal) for over $1 million.
I founded and was editor-in-chief of Rugged Land Books, distributed by Penguin Random House, where I acquired, edited, published, and helped to write dozens of titles.
As an author, I recently completed The Last Duke for Duke University Press (2021). I have written for The New York Times and The Wall Street Journal among other publications.
On the film side, I developed and produced The Conspirator (Robin Wright, directed by Robert Redford), Gone in Sixty Seconds (Nicolas Cage, produced by Jerry Bruckheimer) and The Negotiator (Samuel Jackson, directed by Gary Gray) among other films.
Kevin Miller
Science Fiction, Fantasy, Literary Fiction, Screenplays, Historical Fiction, Creative Nonfiction, How-To, Self-Help, Christian Fiction and Nonfiction
Kevin Miller has worked as an author, editor, publisher, educator, journalist, screenwriter, blogger, copywriter, book designer and proofreader for over 26 years. During that time, he has written, co-written, contributed to and edited over 250 published books, both fiction and non-fiction. He has also written, co-written, and/or directed and produced a dozen motion pictures, including feature film projects and documentaries. In addition, Kevin is the author of the best-selling Milligan Creek Series for middle-grade readers.
Throughout his career, Kevin has shepherded dozens of writers toward publication, including those who have gone the traditional route as well as those who have chosen to self-publish. Some of Kevin's clients include William B. Davis, the "Cigarette Smoking Man" from The X-Files; Spencer Tillman, former NFL player and lead studio analyst for College Football Today on CBS; and Doug Brode, Hollywood storyboard artist for such films as The Maze Runner, Thor, and Star Trek. Kevin has extensive experience at every stage of the publishing process, from development all the way to book and cover design and marketing.
Kevin's areas of specialty include sci-fi and fantasy, historical fiction, literary fiction, screenplays, creative nonfiction, business writing, how-to/self-help, autobiography, and Christian fiction and non-fiction. His clients appreciate his extensive knowledge of story structure, his attention to detail, his knowledge and experience of the marketplace, and his friendly, honest approach.
Steven Severn
Award-Winning Ghostwriter, Editor and Writing Coach for Eleven #1 Best-Sellers
Award-winning New York Times best-selling ghostwriter, book doctor, editor, screenwriter, and writing coach. Mentored by an Academy Award-winning writer. Ghostwriter and consultant for eleven #1 best-selling books, including five New York Times #1 Children's books. I'm here to make your deepest dreams come true.
I mentored under Oscar-winning screenwriter Stewart Stern ("Rebel Without A Cause"​). I served as consultant for the #1 best-sellers TEARS FOR MY CITY by Dean Dimitrieski and THE REVVED LIFE by Pastor Jeff Knight, and for Robert Beatty's #1 best-selling Children's novels SERAFINA AND THE BLACK CLOAK, SERAFINA AND THE TWISTED STAFF, and WILLA OF THE WOOD. In addition, my ghostwritten screenplay based upon a #1 best-seller was winner of Best Adaptation at two international script competitions.
Dreams are powerful. Dreams can transform you. Dreams come from a Higher Power, and can take you to your highest place. If you have a dream, or a vision, your heart yearns to see it come true. My calling is to help you write the words that can make your deepest dreams come true. I love taking all that passion and fire burning inside you and transforming your life stories, your dreams, your visions, and the deepest yearnings of your heart from the first spark of imagination into fire-breathing reality.
I'd love to help deliver your creative visions to the world, using the fire and passion of imagination, and the life-transforming power of your dreams.
Thank you for sharing your dreams with me.
SJ Sutton
Book Editor, Script and Screenplay Story Consultant, Publishing Consultant, Television and Film Industry Veteran
S. J. Sutton has worked in the book publishing and the film industries for thirty years.
In the film industry she worked as a story analyst and development consultant on feature film and television projects for DreamWorks, Disney, Showtime, and Lifetime, including L.A. Confidential (Academy Award for Best Writing, Screenplay Based on Material Previously Produced or Published), Get On Up, Enigma, HBO's Vinyl, and Defending Your Life.